Ålesund is a city on the west coast of Norway that is renowned for its unique concentration of Art Nouveau architecture, stunning natural surroundings, and delectable seafood restaurants. This Ålesund city guide will provide you with all the essential information to explore the best attractions, activities, and local secrets this charming city has to offer.
Ålesund Attractions
The city of Ålesund is a feast for the eyes with its distinctive architecture, born out of a city-wide rebuilding effort following a devastating fire in 1904. A stroll around the city center will reveal an array of beautifully preserved Art Nouveau buildings, making it one of the top Ålesund attractions for architecture enthusiasts.
Visit the Ålesund Museum to learn about the city's history and culture, including the 1904 fire and the subsequent rebuilding. For an unbeatable panoramic view of Ålesund and its surrounding islands, head to the Aksla Viewpoint. Accessible via 418 steps known as the "City Train", it's a must-do for any Ålesund sightseeing itinerary.
Things to Do in Ålesund
Ålesund offers a myriad of activities catering to a wide range of interests. For nature lovers, the numerous Ålesund hiking trails offer the chance to enjoy the city's natural beauty. The nearby Sunnmøre Alps are perfect for both gentle hikes and challenging climbs, offering breathtaking views of the fjords and the city.
If you're more inclined towards aquatic adventures, Ålesund, surrounded by a stunning archipelago, is an excellent base for sea kayaking and fishing. The Atlanterhavsparken Aquarium, one of the largest saltwater aquariums in northern Europe, is also worth a visit, especially for families.
Ålesund Nightlife and Dining
Ålesund's dining scene boasts a variety of restaurants serving both international and traditional Norwegian cuisine. Seafood is a must-try, with local restaurants often sourcing their fish directly from the nearby ocean. For a vibrant end to your evening, explore Ålesund nightlife with its range of cozy pubs and stylish bars.
Best Time to Visit Ålesund
Ålesund can be visited at any time of the year. However, the best time to visit Ålesund is during the summer months from June to August when the weather is warmest and the days are long due to the midnight sun.
How to Get to Ålesund
Ålesund is easily accessible by air, with regular flights connecting it to Oslo and other major Norwegian cities. If you prefer to travel by sea, you can also reach Ålesund by ferry from several locations along the Norwegian coast.
This Ålesund city guide is just the beginning of what the city has to offer. From its historic Art Nouveau architecture to its vibrant food scene and stunning natural surroundings, Ålesund truly has something for everyone.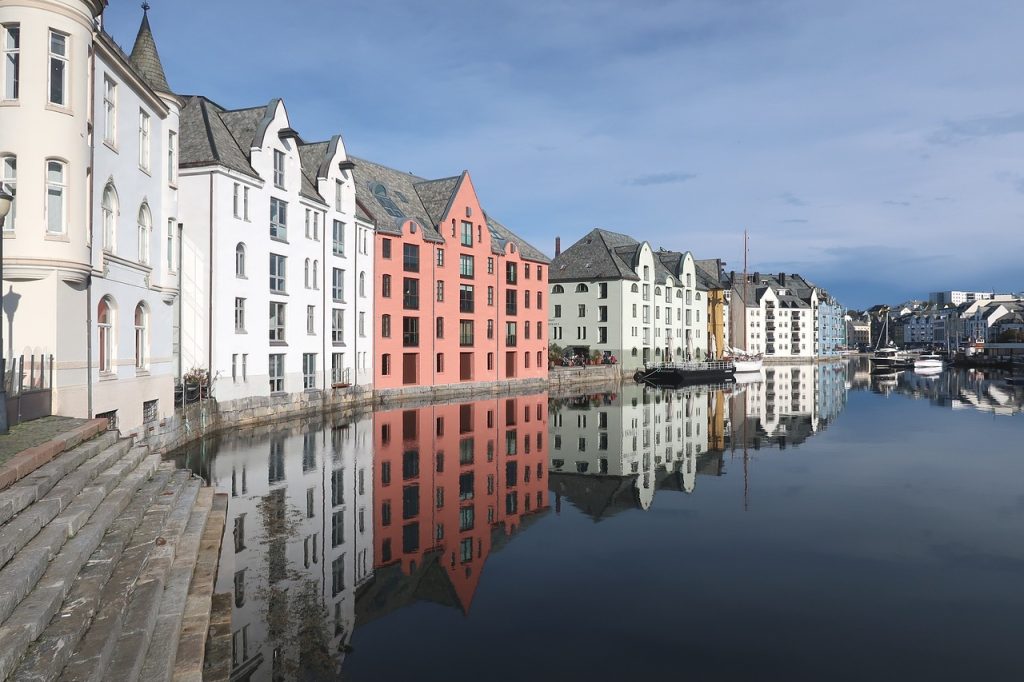 Where to Stay in Ålesund
The city offers a variety of accommodation options to suit all budgets and preferences. From luxury hotels with stunning fjord views, like the Hotel Brosundet, to affordable guesthouses and self-catering apartments, you'll find something to suit your travel style and budget. Many of these accommodations are within walking distance of the city's main attractions, making it convenient for sightseeing.
Ålesund Shopping
Ålesund boasts a variety of shops selling local handicrafts, Norwegian design items, and outdoor clothing and equipment. The city center, particularly the main street Kongens Gate, offers a delightful shopping experience. If you're interested in local food products, visit the local fish market, Fiskeriveien, for some fresh-off-the-boat seafood.
Day Trips from Ålesund
Ålesund's location makes it an excellent base for exploring the wider region. One of the most popular day trips is to the UNESCO-listed Geirangerfjord, one of the most picturesque fjords in Norway. You can take a ferry from Ålesund to Geiranger during the summer months. The nearby island of Runde, known as the "Bird Island" due to its large number of nesting seabirds, is another great day trip option for nature lovers.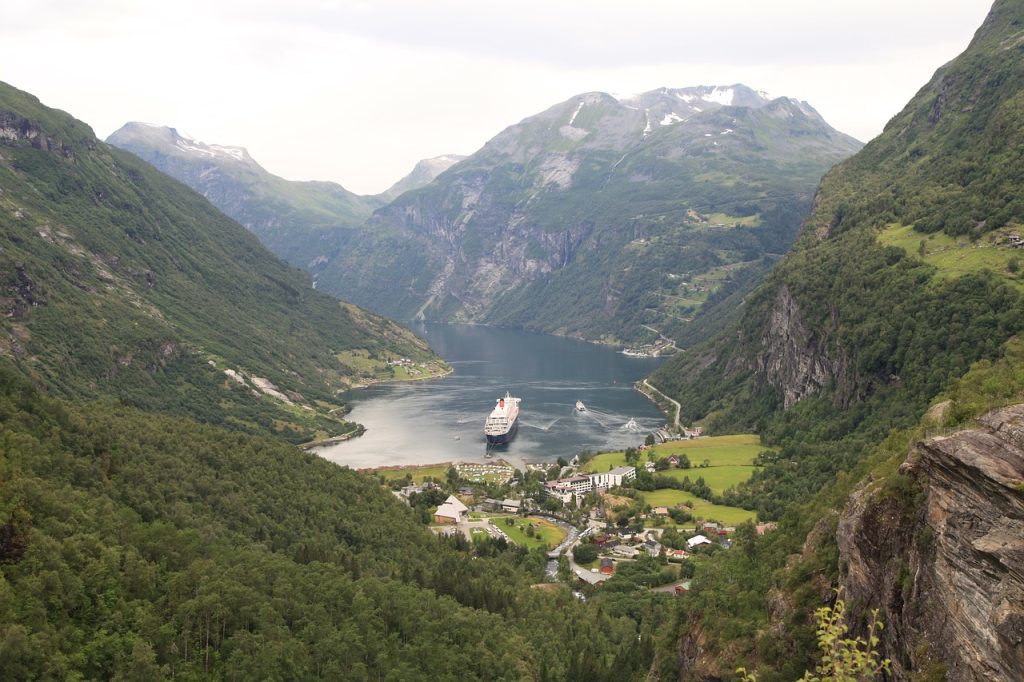 Practical Information
Norwegian is the official language, but English is widely spoken. The currency is Norwegian Krone (NOK). Ålesund is generally safe to visit, but as with any travel, it's recommended to take normal precautions to secure your personal belongings.
For more information, visit the official Ålesund tourism website.
Whether you're a history buff, a nature lover, a foodie, or simply looking for a relaxing getaway, Ålesund has something to offer. With its rich history, stunning natural beauty, and friendly locals, a visit to Ålesund is sure to leave you with lasting memories.
Ålesund Aquarium – Atlanterhavsparken
For lovers of marine life, a trip to the Ålesund Aquarium (Atlanterhavsparken) is an absolute must. It's one of the largest saltwater aquariums in Northern Europe, providing a captivating insight into the diverse aquatic species that inhabit Norway's coastlines. The aquarium is home to a wide variety of sea life, including seals, penguins, and more than a hundred different species of fish. There are also daily feeding sessions, which are particularly popular with younger visitors. Visit their official website here for the latest information on opening hours and ticket prices.
Hiking Around Ålesund
As well as the cultural and architectural delights, Ålesund offers an array of outdoor activities. One of the most popular is hiking up to Mount Aksla. There, you'll find the Fjellstua Viewpoint, which offers panoramic views of the city, the surrounding archipelago, and the Sunnmøre Alps. It's a steep climb, but the views from the top are well worth the effort.
Ålesund's Art Nouveau Centre
Lastly, for those who want to learn more about the city's unique architectural history, a visit to Ålesund's Art Nouveau Centre is essential. The museum is located in a former pharmacy and showcases the city's transformation after the great fire of 1904. The exhibitions are fascinating, and the center itself is a beautiful example of the Art Nouveau style.
Remember, when planning your Ålesund city tour, always check the most recent travel advice, as opening times and access to attractions can change. With its combination of stunning natural beauty, fascinating history, and vibrant cultural scene, Ålesund is a city that truly offers something for everyone.
That's our Ålesund city guide. We hope it helps you plan your unforgettable visit to this unique Norwegian city.